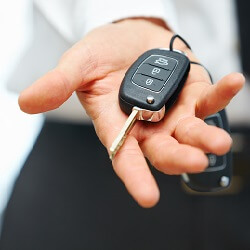 Car Fob Replacement
Car door not opening? Lost your car key transponder? Losing your keys has always been problematic. You need to get replacement car key remotes quickly. With modern car key fobs, this process has become more problematic because many foreign and domestic cars won't run without their fob.
Quick and Efficient Service
Having your car towed to the dealership for a car fob replacement can be both costly and time consuming. Dealerships will charge exorbitant fees for a key transponder replacement alone. If you also need transponder chip re-programming, the charges will be very high. To avoid paying outrageous fees for these services,  call us at San Anton Locksmith for programming assistance.  Our company is licensed, bonded, and insured for your protection, and we also offer fair and upfront pricing. If you have damaged or broken car key remotes or fobs, and are unable to start your car, or if you can't get into your car, give us a call now. Our mobile locksmiths provide 24/7 locksmith service within the San Antonio vicinity.
Professional Car Locksmith Services
At San Anton Locksmith, we have expert technicians who are well trained and experienced. Our car fob replacement specialists receive the most up-to-date training, and use state-of-the-art machinery to ensure quality workmanship on every job. Each of our automotive locksmith technicians has 5+ years of experience, and has great expertise in every aspect of the auto locksmith field.
If you have lost your car key fob or it has become inoperable due to damage, then you need to replace your car key fob. Our expert technicians are available for complete locksmith service, and our 24/7 locksmith service includes all car key replacement services: ignition repair, car fob replacement, rekeying car doors or trunks, and car key duplication.