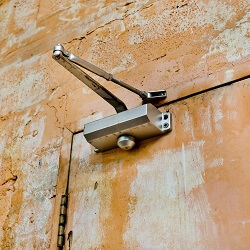 Automatic Door Closers
Looking for locksmith experts that install and repair automatic door closers? Call San Anton Locksmith for fast and friendly service. We offer quality and cost-effective 24/7 locksmith service in San Antonio, TX and surrounding areas, and we are fully licensed, bonded, and insured. We are honest and reliable, and we make sure that you get upfront pricing.
Many doors in commercial establishments have automatic door closers installed. Automatic door closers effectively close and open doors based on a sensor and/or push button. The door itself controls high volumes of traffic and acts as a fire block.
If your door closer starts to malfunction, the door may not latch, or if the automatic door closes too fast, the lock, frame or door can get damaged. We can adjust, replace, and repair old door closers. When it comes to keeping your business or office building safe, door closers offer an affordable security solution that cannot be beat. A quality door closer is what you need to ensure the longevity of the service.
San Anton Locksmith has grown on building a reputation of professional, efficient service coupled with offering our customers the most affordable solution to their automatic door closer problems. With 5+ years of experience in commercial door systems, automatic door repair, and commercial door closer service, our technicians promise you prompt, expert servicing of retail, industrial, and institutional doors. We provide the highest quality service and the best prices in San Antonio, TX and surrounding areas. Call us now or schedule a service appointment online.