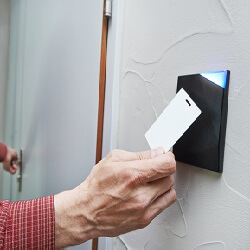 Access Control System
To ensure safety and security on your property in San Antonio, TX and surrounding areas, install access control systems to put the power into your hands. Having control over all aspects of your business is a must. This is regardless of whether the business is a small start-up or a large well-known name. Call upon the fast and friendly professionals at San Anton Locksmith to customize a system that is perfect for your business, security, and budgetary needs. With our 24/7 locksmith service in San Antonio, TX and fast 30 minute response time, we will have your system installed promptly and professionally.
Installations
Installing a new access control system on a business will ensure that only authorized personnel have access to certain areas, information, or supplies. Having one of these systems installed allows you  to have control over all areas restricting access to sensitive parts of a building. The systems that we use are activated by the use of a PIN or password, a plastic access badge, or a bio metric measurement such as a fingerprint. Consulting with a technician will help you decide which system works best for your needs.
Maintenance
When an issue with your business' locking system occurs, call upon our professionals. Servicing San Antonio, TX and surrounding areas, our complete locksmith service of access control systems will secure your property with minimal invasion to your business. Choose a commercial locksmith with 5+ years' experience to assure that your property's installation is safe and secure with the proper system. We offer an emergency 24/7 locksmith service within a 30 minute response window. Fast service, professional interaction, and cost-effective access control system installation and repair is what you can expect when you hire San Anton Locksmith.