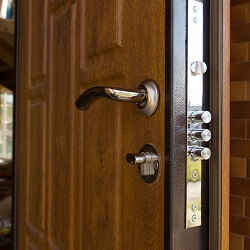 High Security Lock Installation
San Anton Locksmith provides complete locksmith service to San Antonio, TX and surrounding areas. We are the area's top locksmith for mortise locks in homes and businesses. We also offer locksmith services for cars and trucks.
What is a Mortise Lock? What is a high security lock?
A mortise lock (also known as a mortise deadlock) is a type of lock that necessitates a pocket – or mortise – to be embedded inside the door. Mortise locks are made up of three main parts: the lock body, the part of the lock installed in the door, and the box keep, which is installed in the door jamb. The mortise lock system is built within the door so that only the faceplate and door handle are visible.
The main difference between a normal lock and a high security lock is the security rating. These ratings are given after being analyzed by manufacturers, locksmiths, and security researchers. A lock's rating is based on characteristics such as pins, tumblers, and ease of picking. High security locks are more appealing to commercial business owners because they deter forced entry and unwanted intrusion. A Grade 1 lock is the strongest grade of security for a commercial lock. A lock receives this grade based on operational and security tests. Grade 1 means that the lock model has withstood one million uses and is still functioning.
Installation and Repair of Mortise Locks for Homes
As mentioned in the previous section, mortise locks can provide security to homes as they are much more difficult to pick or force than a regular deadbolt. They require special tools (such as a mortising jig) and skills (such as woodworking) to accomplish. You can rest assured that our licensed, bonded, and insured locksmiths have these tools and skills on hand and can install and repair mortise locks quickly and efficiently. Our complete locksmith service will get your business set up with our top of the line locks. We only install the best brand name locks, such as Schlage, Emtek, Arrow, and Yale.
Our Responsibility to Our Customers
San Anton Locksmith is the complete locksmith service provider in San Antonio, TX and surrounding communities. While our job and profession is to install and repair lock sets, our fast and friendly team will also take the time to listen to your safety concerns and answer any questions you may have pertaining to both the services we provide and the security of your business.
We provide 24/7 locksmith service along with 30 minute response times for any emergency situation. With 5+ years of experience, our expert technicians are able to provide a solution for any problem or situation you may have. Providing your business with high security locks is just one of the many areas of our expertise.
Whether you have an issue concerning a store front entry or a private side or back entry, our mobile locksmiths are able to install and repair any style or brand of lock. We will also take the time to give you helpful advice and tips to ensure you are receiving as much protection as possible. The upfront pricing we provide ensures you as a customer that we are sincerely concerned about the protection of you and your business, and not simply trying to accumulate extra hours of service to add to your bill.
The Most Knowledgeable Locksmiths in San Antonio, TX. If you live in the San Antonio, TX area and need to install or repair a lock in your home or business, call San Anton Locksmith. Our mobile locksmiths have 5+ years of experience so you know the job is done right. We also work around the clock and provide transparent pricing so anytime you call, we will be here for your locksmith needs.