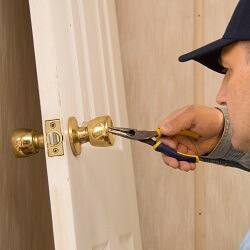 Locked Out Of Your Home?
You may suffer from a home lockout due to your locks being tampered with or as a result of a damaged or broken key. Most of the time, however, home lockouts result from misplaced or stolen keys. With our team, you can trust us to unlock the door and even rekey or change the lock if necessary. Our trained professionals can provide you with a security audit to make sure your home security has not been compromised in the meantime. We have a huge array of services available to you, so if you ever need us for anything, we can help you.
Who We Are
We are a complete locksmith service in San Antonio, TX offering upfront pricing. Since we are licensed, bonded, and insured, we always provide fast and friendly services that you can count on. We offer everything from key replacement services to rekeying front door locks. As a local residential locksmith service, we know how to treat our clients with respect and dignity.
We offer our clients a 24/7 locksmith service. We strive to help customers during their worst moments of the day. We arrive at the time you need us the most. We know and understand the needs of homeowners like you dealing with home lockouts. At San Anton Locksmith, we are able to serve everybody with success. Give us a call today, and receive the help you desperately need to fix any lock issues you have.