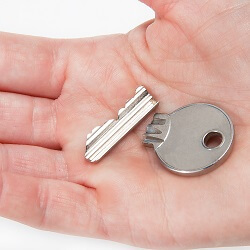 Residential broken key replacement
When a key breaks inside a lock you need the professional know how of a trained locksmith to remove it. Key extractions are no easy task because a DIY job could possible break the lock by jamming the key further, thereby costing you more money in replacements.
Contact our mobile locksmiths in San Antonio who are highly trained and experienced to get your key out in no time. We guarantee a 30 minute response time in San Antonio, TX and surrounding areas so you can rest assured that we will get your locks and keys fixed in no time.
Residential Key Extractions
Our mobile locksmith service is willing and able to come to your home and remove the jammed key, typically in one piece. There are, however, exceptions where we do need to replace the entire lock in order to get you into your home. We can replace the broken key after it has been extracted and offer you a security assessment to ensure you feel comfortable with the work being done in your home.We offer quality customer service with upfront pricing for all of our services so you are not surprised by unnecessary costs.
The next time you find yourself with a broken key, contact us for your key extraction needs. Our licensed, bonded, and insured experts will help you get your key extracted and your lock fixed. We will also provide not only lock and key repair services, but key duplication as well. Our expert automotive, residential, and commercial locksmiths will get your locks fixed, your keys made, and get you back to your day in no time at all. You cannot beat our 24/7 locksmith services and competitive pricing. You will always know before we start any work what you are going to pay. Contact us today for all of your San Antonio, TX locksmith needs.