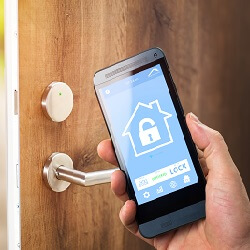 Biometric Locks
San Anton Locksmith has fingerprint locks that provide you with 24/7 door lock security. These locks allows entry into your property by using a person's physical information for entrance. You can decide whether you want to use their palm prints, fingerprints, or a retinal scan as the security pass code to open this lock. Our biometric locks come with battery backup power so that they will continue to provide you with continuous security even during a power outage. These high tech locks will lock automatically every time and can be locked or unlocked from inside or outside.
These locks work on any type of door or door frame – there are no special requirements to be able to use this lock.We will take into consideration any needs or wants that you may have with your high tech lock.
Keypad Locks
Keypad locks are electronic locks that use a keyless entry system that only allows entry into your home or office with a pre-programmed numerical code. It is easy to use and if for any reason you need to change the code, it can be changed in a matter of seconds. If you need to set up a code just for deliveries, a maintenance call, or an emergency, you can quickly add a temporary code to let someone in, then delete the code when they leave.
Electronic Deadbolts
Electronic deadbolts are electronic locks that can unlock or lock the door to your property with a heavy deadbolt lock remotely with your smartphone, computer, or tablet. They come with a keypad and a code that is programmable on site or remotely and have a touch screen feature.
Give us a call today for your security needs. Let us install high tech locks on your residential or commercial property and you'll you never have to worry about safety and security again.